Heathers Blog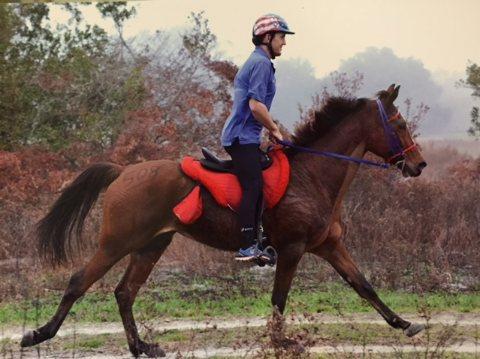 Pictured above from Left to right: Kelsey Russell on My Wild Irish Gold, Jeremy Reynolds on Gold Dust Rising (no relation to Irish) and myself on Chanses
So France was an adventure. After my 2 days of flying right after Tevis I was really walking like a crippled person. It took a couple of days to work the kinks out.
Jeremy had driven our two horses, Chanses and Gold Dust Rising to the USEF headquarters in New Jersey before the flight so they could be inspected one last time by the team vet. It was decided that both horses were ready for the trip and were a part of the traveling squad for Team USA.
Jeremy flew with the horses while I flew by myself from California to New York to France. I arrived in New York late at night but the next day I met up with Meg Sleeper and Ellen Olson, two of my teammates. We had a good time in the VIP lounge, a little too good of a time! We almost missed our flight, and we were there most of the day!
The flight was alright but we were all really disappointed that we had booked ourselves onto an over seas flight that didn't have personal entertainment. Darn. Lucky for me I was good and tired.
We landed in France and found my rental car that we all piled into. The drive to our house we were staying in was about 4 hours away. Good times. We stopped and had a coffee on the way.
We finally found our B&B and got the tour. It was super cute, with a country flair. We tried to then navigate to the stable as the horses would be arriving at o'dark 30. We wandered around for a long while and gave up and had pizza instead! (By the way our B&B was more of a bed than a breakfast we found out!)
Jeremy Reynolds, Jeremy Olson and Lynn Kennely arrived with the horses and got to the B&B late that night. It was good to see Jeremy and hear how the horses were doing.
The next couple of weeks were a slow blur of meetings, paddock watch, trot outs, riding, eating pastries at the bakery down the lane, staying out of the rain, starring at the horses, eating more pasteries, keeping dry, standing around, trying to find trail checkpoints, watching the local guy who we rented the stable from work his thoroughbreds, riding in the least muddy area possible, putting horses on the walker, cleaning stalls and eating pastries. We also ate pastries.
We had an amazing team and there were many group dinners. They were really fun as you got to know everyone more and more. One night after dinner Skip, Heather Martin, Jeremy and I went to Mt Saint Michelle for a night tour. It was absolutely incredible.
Opening ceremonies were really fun. We had a bus for our team to travel over together in. The whole group went and we had food and laughter on our 2 hour drive. We had nice uniforms by Hermes. The sizes of Hermes run really small by the way! It is always an amazing feeling walking in to the opening ceremonies with your team, representing your country, doing what you love.
It was finally time to go to the venue with the horses. We arrived there the day before the race which was nice as our horses didn't need to stress out any longer than needed at the loud and hectic stabling. We were ready to get unloaded but then it was found that the vet paperwork wasn't there. Dwight ran back to our stable we had just driven from to find the paperwork.
Once the paper work made it we were allowed to unload. Our awesome friends and crew had set up all of our stalls already. The horses settled in nicely.
Our crew was: Misty McAdams, Sarah Engsberg, Holly Jonsson, Skip Lightfoot, Heather Martin, Nicki and Andy Thorne, Jonathan Spinner (my brother) and Jean and Howie Spinner (my parents). My step mom, Jacqueline also came to watch and friends Laura and Doug Schnieder were ther as well.
We all vetted in and had decorated our horses with USA stencils and red, white and blue glitter paint. They looked really cool.
The night before the race we went to bed early and got up before our alarm. It had been raining off and on for the entire time we were in France. The start was a muddy downhill with a good right hand turn at the bottom that we had walked the night before. I was wondering about how that would go.
We arrived at the back parking and hiked our way in. It was raining lightly. The horses greeted us and looked bright. We saddled up and got out of the barn, into the rain to go warm up. The warm up area was a large, fenced off circle, like a keyhole just before the start line. All of the USA horses looked smart and warmed up pretty quietly. There was a lot of nervous energy in that circle, I was glad to be on Chanses.
After what felt to be like a long time circling it was time to go. The start was fast, as all of the horses galloped down the chute, across the pasture down the muddy hill and around the corner. The pace was much better after that little dash. It is difficult to stay exactly where you want at the start of a WEG, you need to be a little flexible! During the start there was at least 1 loose horse that went around us and jumped over a fence and kept right on going.
The first loop was muddy and had some slippery parts as well as a lot of road crossings and travel through small portions of towns. There were many horses falling down. Very experienced riders were parting ways with their horses, this was happening at the trot even. Chanses, Dust and Irish were all together on loop 1. I made the mistake of going too fast around loop 1. The course was much more hill than I had been aware of before we traveled to France. I should have gone to the test event, in hindsight. The entire training of our horses was for a flat rolling course, not a muddy hill course! Bummer. I should have slowed down but at the time it wasn't totally apparent to me.
Chanses arrived and recovered right away. There was some confusion with our crew and Chanses ended up with almost all of the crew while Dust had only 2 people. Chanses recovered and Dust was at 72. I was told to go in to the vet check. I should have waited there for Dust. Biggest error of the day. I will never again leave a USA teammate at vet check 1 without waiting for a couple of minutes to see if the horse will recover, no matter what I am being told to do.
Chanses recovered, vetted and went to the hold area. Dust got upset that Chanses had left. He recovered and marched in to where he thought Chanses was and got upset searching the vet area for Chanses and his pulse bounced. He recovered again right away after walking around and was at 60, then walked back in where he thought he would find Chanses and bounced again. He was pulled...disappointing to say the least. Amatuer mistake on my part.
Chanses went around the next loop. It was still slick but heating up and the rain had stopped, making it warm and humid. When I was almost around the loop the mud was turning to sticky, peanut butter. I made one more loop before I was pulled. Chanses vetted through at the check that was around 70 miles and then was pulled on his exit exam CRI. Irish was pulled at the same check on her first exam and Hot Desert Night was pulled at that same check as well, and like Chanses it was on the exit CRI.
That left us 1 horse in the fight, our alternate horse Wallace Hill Shade with Jeremy Olson. Jeremy had been substituted in, the night before the race. The day wore on and the whole team gathered round the finish line waiting as it began to get dark and the rain was falling lightly again. Shade and Jeremy brought it home. That was great to watch. Thank you for finishing for the USA.
The race was really disappointing for many. There was an overall 21% completion rate. I feel like if I could do it over I could improve my race by a landslide but hindsight is 20/20, and it is even easier to critique from the peanut gallery. I am sorry that I didn't get to do a better job. Hopefully next time around will go better. I do feel like our team got along very well and that we had a good group of sound horses.
After the dust had settled Jeremy and I decided to head towards the airport rather than waiting until the early morning to make the drive. We drove over to the main venue to watch the USA Reigning team kill it with a tema Gold Medal. That was fun. We also bought ourselves some great Dubarry boots. Then we drove towards the city and airport. When we couldn't keep our eyes open any more we pulled over and got a hotel.
Getting back to the USA is always a nice feeling. We landed in New Jersey and Dave Augustine picked up Meg, Jeremy and I. Just before Dave pulled up a car needed help so Jeremy went to help. Then we got in to Dave's car. When we had driven the hour drive to Meg and Dave's house we realized that Jeremy had set down the bag with the Dubarry boots somewhere as it wasn't in the car!! Jeremy and I drove back up to the airport, like zombies! So quiet as we were both tired and bummed about the boots but we had to go look. Upon getting to the airport we saw that we had been picked up right by the Taxi line. Great. I was told to talk to lost and found, then I was told the boots were not there but to talk to the curb police that were directing traffic. The officer told me that he had found them right by the line for the Taxi! What are the odds??? We felt super lucky to have our boots back.
We drove back to Meg and Dave's and had dinner with them and Lynn Kennely. It was fun. Then we drove to Delaware to stay with our race track friends, Lynn and Mark Ashby. It was super to see them both. The next day we looked at the awesome race horses and also visited with our three, Liger, Code and Fast. It is always fun seeing your boys looking fit as hell.
We had bought a mare just before we flew to France so we got to see her and take her for a ride. She is a 2008 Sam Tiki daughter, her name is Rictik. She is super cool. We had also bought a gelding named Bold King who we had to drive up to get, he was in MA. Both horses looked great.
We spent a few days with Lynn and watched a couple of races while we were there before we made our trek home.
The next ride will be The Alabama Yellow Hammer.