Heathers Blog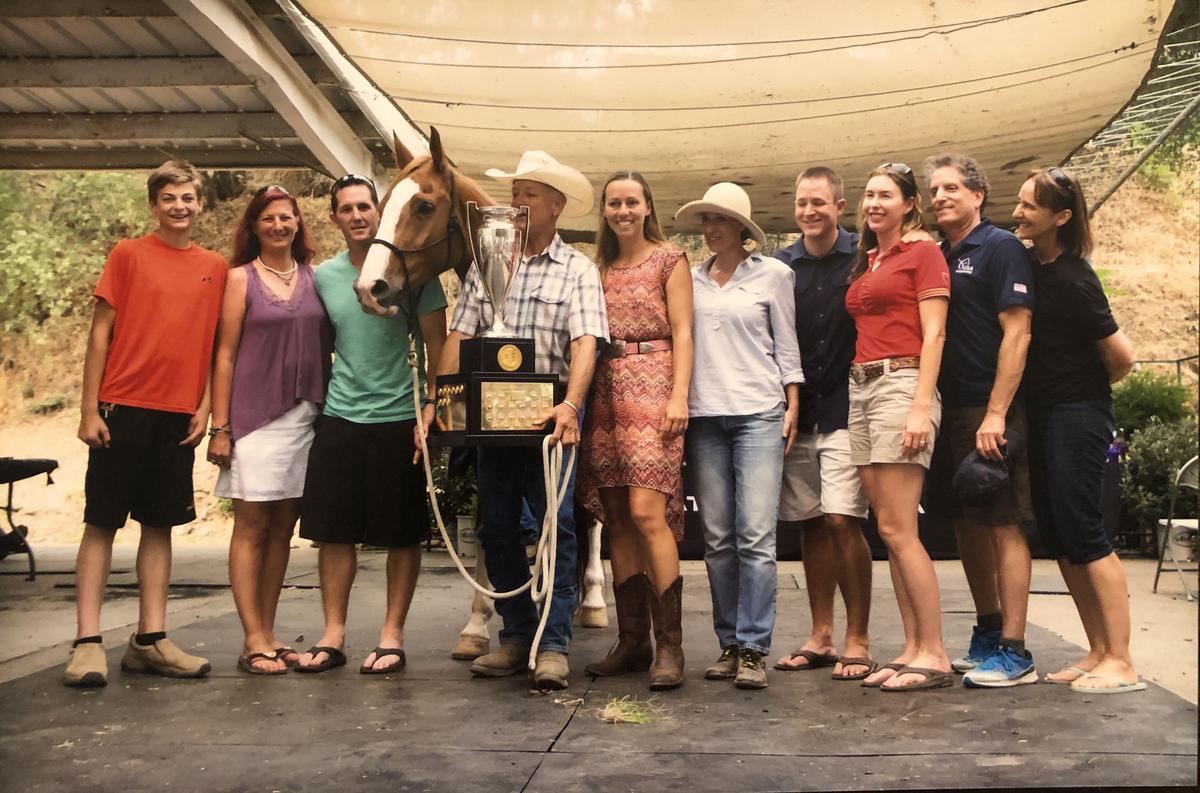 Photo from left to right: Aidan Kenelly, Lynn Kenelly, my cute husband Jeremy, Cayucos, Mark Schuerman, myself, Hillorie Farace Di Villa Foresta, Josh and Nicole Wertz, and my awesome parents Howie and Jean Spinner. Photo by Lynn Glazer
Well, 2018 flew by! We had some great rides and lots of really fun times. In 2018 we had the pleasure of working with two riders from Israel that were on a quest to represent their country at the WEG for Endurance. Israel has never had an endurance rider at the WEG.
We did many FEI rides with Dan and his son Matan Harkabi to help them reach their goal. They are both very dedicated and really fun to coach. By the time WEG arrived Matan had made the qualifications and had successfully completed not just one 100 mile qualifier on the mare he was to ride but two. He also rode additional rides. At WEG he rode RTR Rimfires Etta, a mare who belongs to Dublin Hart and her mom Kay Mathews.
Etta, Matan and Dan at WEG. Photo by Becky Pearman
We had a second horse in the WEG as well. Grand Ku and our friend from the UK, Nicki Thorne was his rider. Both horses were still in the ride when the ride was cancelled. The 2018 WEG will be remembered by all, as it was such a noteworthy event in all the ways that no one wanted.
Grand Ku and Nicki at WEG. Photo by Becky Pearman
We also had the pleasure of working with a few young riders this year. Alex Shampoe and her mom Aileen travelled out to the Biltmore, FT Howes and Broxton Bridge for Alex to ride our horses. Alex is a very fun person as is her mom. Mollie Quiroz and her mom Kathy also came to a ride this year to ride one of our horses. Mollie then additionally came and spent a week with us in Florida. Mollie is a super skilled rider as well. Both girls, Alex and Mollie have a super future ahead of them. We have enjoyed working with both families.
The Tevis was a very exciting ride for us this summer. We spent the summer at Adam Farmer's house again. He lets us invade his home for the majority of the summer, we are so thankful to him for this. He is an amazing friend. Adam was also the farrier of Cayucos, the horse that I won the Tevis on this year.
For Tevis this year we had 3 leased horses and Jeremy and I also rode. 3 of our 5 finished. Bob Gauthier came is 16th on Treasure, Hilda Donohue finished on Rictik and I won on Cayucos. Jeremy made it to the lower quarry and then had to stop there. Dang it, so close.
Cayucos, the 2018 Tevis winner. Photo by GoreBaylor photography
We also went to the Biltmore three times this year, once for the annual ride, once for the USEF WEG training clinic and lastly for the AERC National Championship. Jeremy and Barbara Hershberger's AnyDayNow won the 50 twice this year. At the Nationals they tied with Erin Lemons.
AnyDayNow at the annual Biltmore. Photo by Alex Rodriguez
We bought a very nice 2 year old stallion bred by Lapco Arabians. Our friend Aubree Becker helped us acquire him. His name is now RR KY Bourbon. He is a really exciting young horse, he has a great mind and appears to be super athletic and very correct. We look forward to his future.
RR KY Bourbon. Photo taken by yours truly
Omen had his first public outing and trailered out to do a 10 mile CTR. He did the ride with a fellow rookie, Legs (my sister's horse). Both horses did super. I couldn't be happier with Omen, I am enjoying every step of the way with him.
Omen and I, Legs and my sister Holly. Photo by Trewheway
Photo by Trewheway
We gave away our goats, which promoted our livestock dog Theo to a house dog. He is STOKED!! He is adjusting well to his new life style.
Theo and Poncho Photo by yours truly
We wish all of you and your loved ones a happy holiday season. We look forward to seeing you all out on the trail.
Heather Reynolds