Heathers Blog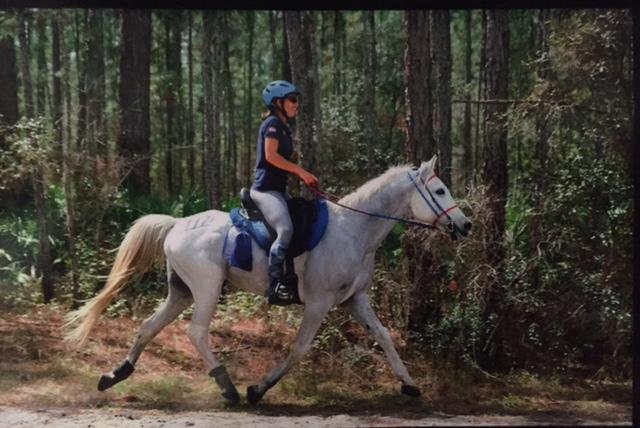 Bound For Honor on his way to winning the 100/160. Picture by Becky Pearman
Jeremy and I were busy glueing up horses in Easycare products the week leading up to the Fun In The Sun ride, Jeremy was CRAZY busy! This year the FITS ride was the first of three of the USA Time Trial rides, meaning the USA selectors and team veterinarians and Chef would be looking over nominated horse and rider combinations to start the selection process for the USA Endurance Team for the World Championship that will happen this December in Dubai.
Because of this we had to be at the race on Tuesday so that we could have Honor examined by the staff. We loaded up Honor and Lou and went over to the ride. We had dropped off our LQ the day before so we took our smaller shuttle trailer over. Honor had his exam and Jeremy took Lou out for a ride. We were told that we were to camp at the ride from that point forward but lucky for us we were then told that that wasn't the case. We stayed at the ride site to have the dinner of shrimp and grits that Lynn Kenelly made for all, then we loaded up and took Honor and Lou home for the night and let them be in their pasture. We live about 20 mins from the ride so this was super.
On Wednesday morning we rode Chachie and Rictik on their last training ride before they would fly to Dubai for a race we were invited to at the very last minute. The race is on March 19th and it is a 140 km race. An odd distance of roughly 88 miles. After this we loaded Honor, Lou and now Code back up and went over to the ride. We did the usual pre ride things that afternoon. Vetted in, weighed in and got things organized. Jeremy had to help out a few friends with their Easyboots while I got the crew stuff ready.
When I vetted Honor in he was very questionable. If I were trotting him out during the race and he looked the way he did, I would be nervous that he was about to get pulled. That was a total bummer. Nothing like vetting in with a marginally lame horse! I trotted him out on alll different kinds of surfaces right after that and he didn't look as bad. I decided to pre ride him. He felt funky. Dang it. What the heck? I was also getting comments from friends like, "did you know that Honor didn't trot well?" and I overheard someone say while I was trotting him out, "Well that one's lame". A bit of a problem.
As Jeremy and I were just getting into bed we were discussing Honor's feet and already losing sleep over it. Jeremy got out of bed and drove home to get some things to try to change Honor's feet. At 10:30 he returned (this is the night before the 100). We trotted Honor out and we had nothing to lose. Jeremy re-did his front feet and made some adjustments. Then all we could do was try to sleep!
The next morning I got on Honor and he felt SUPER. WOW!! We would soon find out if he could stay this way, 100 miles is a lot to ask of a horse that wasn't sound the day before. I decided to start and see how far we could make it. A half an hour later Jeremy started the 75 on Lou.
We had an awesome crew, Lynn Kenelly, Misty McAdams, Sarah Engsberg, Jean Spinner, Elaine Lemieux, Holly Jonsson and Matt Torrens. They really rocked and took excellent care of us and the horses all day long. I love them, thank you guys!!
I rode in my new Reactor Panel, the Tribute. Hands down, the best saddle I've ever raced in! Reactor Panel was at this ride and put on a nice wine and cheese social while displaying their saddles. I would highly recommend doing a trial on one of these saddles, I think you will fall in love with it like I have.
The ride went really well. Honor felt great all day and to my happiness and surprise he looked great all day too. This was his first 100. He flew through it like a champ and won the ride:) He is Superman..the Beast. 10 mins after Honor galloped in, he was vetted through at a 56/56 pulse. I love this horse! Lou also did a fantastic job and finished her first 75 and came in 7th. She looked fresh at the end too. Perfect day, what a turn around from what Honor had vetted in looking like.
Jeremy went home right after his 75 and took Lou with him. Jeremy had to fly to Dubai the very next day so he had a few things to take care of. On Friday morning, around 5:30 am he took Chachie and Rictik to Dr Anne Christopherson's to meet the transport that would take the horses to the airport. Then Jeremy came back to the race to exchange the shuttle trailer for our car and he went home and got a ride to the airport...what a jetsetter.
Friday, I didn't ride as I was to be available for the selectors and team of vets to present my horse and answer any questions. It was a relaxing day, I crewed for Sarah Engsberg and Nicki Thorne, (who was riding RB Code on his first 1*) as well. After I was done with my things that I needed to be at the ride site for I took Honor home and picked up Saturday's horses, Kellora and Benz. I also took care of a few things at home.
When I returned I had to track down Benz's rider who was a Canadian that was riding one of Yvette's horses that day. After I found her, we vetted in our horses. Then I continued crewing for my friends. After Nicki finished Andy drove the shuttle trailer back to our house with Code. Now I only had the LQ to drive, phew.
On Saturday morning Kellora and Benz went out well. We were keeping a very mild trot pace. The whole weekend had been much warmer than what we have been used to and the sand was deep. Kellora and Benz didn't fair so well. Both mares were pulled with hind end lamenesses. Darn it. I think this was due to them not used to trotting so much, as they canter more usually, as well as deep sand and heat. Benz made it 32 miles and Kellora made it to the finish at 60 miles. Bummer for sure. To make matters worse the poor Canadian had been pulled both days in a row. What a drag. At least day one had gone super and Code did great on day 2!
I am sitting at the airport waiting to board my flght as I type this. Wish us luck in the desert. See you at McCulley Farm.