Heathers Blog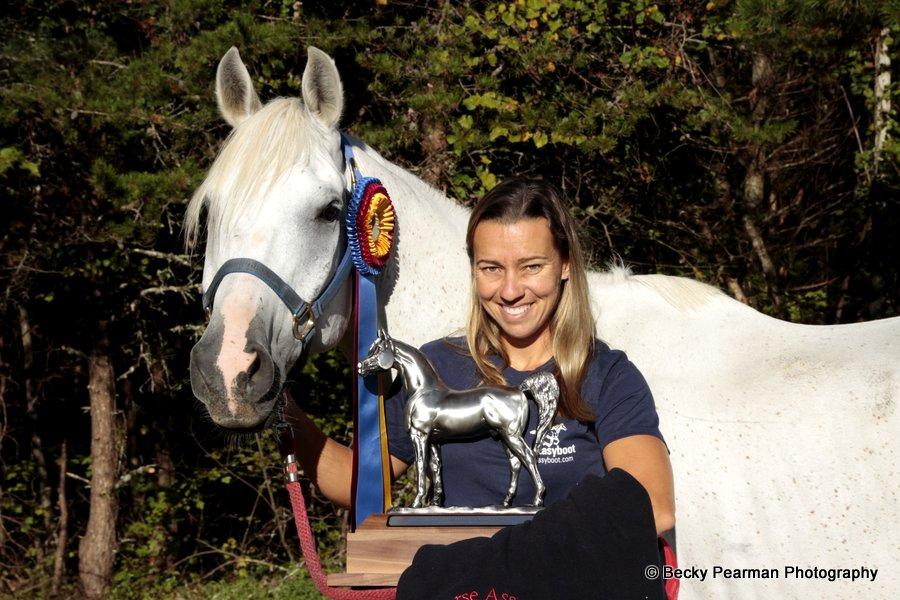 Honor and I with our loot, photo by Becky Pearman.
This is long over due. After our 10,000 mile summer road trip and two weeks of fixing and organizing our property from being gone all summer as well as getting back into a routine with all of the horses that we had left at home, it was time to hit the road again for a measly 11 hour drive. We were heading to Big South Fork Tennessee for the AHA National Championship.
We booted up a few horses as well as putting on the Easyshoe Prototype shoe onto Honor.
We loaded up Rictik and Chachie for Jeremy, (they would do a slow 50 each) and King and Honor for myself (King would do the 100 and Honor the 50). It was an uneventful trip up. When we arrived it had been raining and camp was super muddy. We made some interesting manuevers that required not stopping the rig as we would have gotten stuck right then and there! We stopped rolling at the crest of a small rise and left it there for the weekend.
We got all set up and then visted with friends before the ride meeting. The first day Jeremy and our friend Misty would be riding our mare Kellora in the Ride & Tie. Misty has had Kellora all summer and she had trailered her to the ride. It was to be Misty and Kellora's first R&T. I would be running out to the 1 mile mark for a hand tie and then I would crew the rest of the day.
The next morning I was out on the trail waiting for the herd to come stampeding. It was pretty fun. Kellora led the charge, trotting. I grabbed her and Jeremy took off running. The horses started coming very shortly after that, Kellora was confused but really cool. She watched as riders jumped off and tied their horses and then took off running away from their horses. I can only imagine what she was thinking.
Misty came running up and hopped on and away they cantered. It looked super fun. I ran back to camp and drove to the vet check. It was a pretty relaxing day (for me anyhow!). Misty and Jeremy came in 3rd. A great first R&T for Misty and Kellora.
The next day Jeremy rode Chachie and I was on Honor. Honor is such a beast. The first loop was total mayhem. There were all sorts of people riding wildly through the woods. I heard several of them say, breathlessly, "I've never ridden this fast before"... Bad sign, amazing what the word Championship does to people's brains. Coming in to the first check there were probably around 15 of us that arrived at the same time. More chaos. Honor came right down and we were clear of most of the traffic leaving that check.
On the next loop there were about 8 of us going strong. Honor was behaving perfectly. By the time we pulled into the last vet check there were 3 of us. This part of the trail and time of day was VERY hot and humid. Honor took an unusually long time to recover. During his recovery another horse came in and out recovered us. I was getting discouraged that something might be wrong with Honor. I kept feeling him and he was still radiating an amazing amount of heat. He finally was down, thanks to my amazing crew of Misty McAdams, Lynn Kennelly, Aubree Becker and many other people who kept filling our water buckets! We had lost 13 minutes. After he cooled out he ate like a mad man. We left in 4th place.
Honor felt totally fine and like a freight train leaving that last vet check. I let him roll. It had cooled off a hair and a slight breeze had picked up. He caught the front runners 7 miles in to the 12 mile last loop. I rode with Cheryl Newman and Gunner Frank for a bit and then there was a big climb and Honor wanted to get 'er done. After we left them we started to catch up to some LD riders. Honor almost had a heart attack as he thought I had lost my edge and that I was unaware that we were NOT first! He pulled on me and insisted to pass the LD horses. Honor is really an amazing athlete. I absolutely love riding him. He won the AHA 50 Mile Championship.
Lynn and I pre rode King and Rictik while we were waiting for Jeremy and Chachie to finish. Jeremy and Chachie had a fun ride and finished looking good. Jeremy was smiling. Dinner and sleep and then another round.
The start time was alarmingly late for a 100. We started at 7 am. King warmed up great and was relaxed. He is really getting the hang of this sport. About a mile in to the race a rider right in front of us and her horse went down and her air vest deployed. King was so out of there, he was going the opposite direction immediately. He is too funny.
A little while later there was a horse that kept riding my tail and King did not like it at all. I finally told the rider to pass me. As the rider passed me his horse kicked King in the point of his shoulder. The rider lamely said sorry and did not correct his horse. I found out that this rider and horse have this happen at all of the rides they do. It is a pattern. There was no red ribbon either. When I arrived at the first vet check there was a swelling where King had been kicked. Also another horse had been kicked by that same horse. That was it. When that rider arrived I decided to let him have it in front of everyone. I loudly informed him that he needed a red ribbon and that he needed to train his horse or leave it at home, apologies are worthless when it keeps happening. PERIOD. That it was totally unacceptable. This little talk had an audience but I didn't care, no one else was telling him and it was really a dangerous thing to have out there.
Later in the afternoon the trail markers disappeared. We went 7 miles through MANY intersections without a single ribbon. We were fortunate to have the trail master in our group. I suggested she carry ribbon on the next loop so that if this happened again she could correct it for riders behind us. She stated she "couldn't do that as the ribbon is just so heavy"...WHAT???? Strange. All the riders in our group spoke up and offered that we would carry the darn ribbon if she would show us the way.
After this loop King was off behind. In looking back this was my poor management. I really shouldn't have asked King to do another ride so soon after his Tevis attempt. He was fine the next day and it was not the same hind leg from Tevis. I'm sure getting kicked didn't help either. Lesson learned. I'm still an amatuer.
Rictik came in looking great. That evening we hung out under the stars chatting with Misty and Lynn. Over all it was a fun weekend.
Heather