Heathers Blog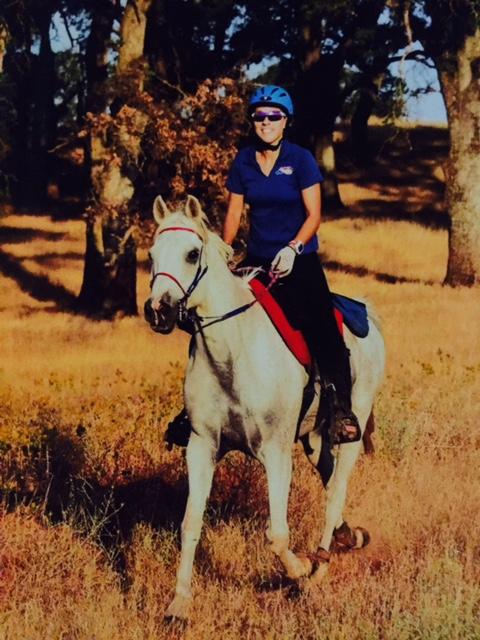 The Lake Almanor ride was cancelled at the last minute and then in a mad dash, scramble it was re-established at a new location, the Camp Far West venue. Jeremy and I are staying near the Camp Far West camp so we volunteered to help mark trail so that it would eleviate some of the work load from the generous volunteers that had agreed to help host the ride.
We met up with Shawn Bowling and his friend John on the first day of marking. It was HOT and dry. We did 22 miles of the long loop and had some fun with it. When we were done we enjoyed a yummy spread of food and drinks provided by Shawn's wife, Lisa. Very much appreciated.
The next day I went without Jeremy, as he had to do a long run in preparation for his Vermont 100 mile run that is happening on July 18th. Shawn came and picked up my horse and I again. This time Nicole Chappel and I marked one loop while Jeremy Precopio and Shawn morked a different loop.
When we were done we had another Lisa meal:) Then we went over to the base camp to mark out where the FEI and AERC parking were. There were several rigs already in camp. Both days of marking trail were long, hot ones. I got home after 10 pm.
Jeremy booted Honor for me when we first arrived in CA, before he flew to Delaware so that I could train in the rocky terrain for the two weeks prior to the race.
On Friday we went for a ride on our Tevis horses and then loaded up Honor in the afternoon to go to the race to vet in and get organized. On our way over to the ride we got a text from Emma and Giulia Orth. They had broken down on Highway 5, in Lodi. It was blazingly hot and they were stranded on the side of the highway. After several phone calls and texts it was decided that Jeremy would go get them after he dropped me off. In the meantime they were also towed off of the highway.
When we arrived, I got Honor and the dogs all set up and then set up our crew area while Jeremy glued boots onto Carolyn Hock's client's horse, then Jeremy and I went in the lake. He had to wait for the rush hour traffic to die down and then he hit the road to pick up Emma and Giulia.
While Jeremy was gone I vetted in the horse that he was going to ride on the FEI 1* 50 mile ride. It is a horse that Alex North has named Pantin. Later I went to the ride meeting. After the meeting I went to the lake again with Nicole and Andre Ruggeri and their crew, that was fun.
I was getting ready for bed when Jeremy returned with the Orth's trailer, hooked to our truck. It was a bit after 10 pm.
Jeremy and I had not eaten dinner yet so we ate and Emma joined us and had watermelon with us. Then with the generator still running to power our AC, we tried to sleep. It was a horrible night of sleep. Between the generator going, the heat and then the cold air blowing on our head and the hydraulic jack making an alarming clicking noise (we were parked on a decent hillside with the lake below!) it was hard to fall into a good sleep.
In the morning Honor was nice and relaxed. It was a controlled start. It was already feeling warm at 5 am when we started (it got up to a bit over 100). The trail was pretty wicked, lots of rocks and ruts. Honor and I did the majority of the ride alone. Jeremy rode Pantin to the 40 mile mark and then was pulled for lameness. Bummer. Honor and I did see them on one loop where the trails happened to be near each other for a few 100 feet!
Rebecca Silva and Alex North were great crew. They had everything ready to go each time I came in. On my last 2 loops Jeremy crewed for me as well. On my second to my last loop I got to ride near a few riders, (including Giulia and Emma) so Honor and I enjoyed that. The last loop was the prettiest. It went along the edge of the lake. There was a lot of cross country and sand riding but it was scenic and cooler near the water.
Honor finished up (he won the 75) and went right to chowing down. I didn't show him for BC as he wasn't moving as well as he could have been. Oh well, after all of that horrible footing I can't fault him.
Jeremy, Emma and I went back in the lake after we iced and wrapped Honor. A couple of hours later we drove the :30 mins to the Shackelford's as Honor would be more comfortabe being turned out for the night.
Next stop, the Vermont 100!! Jeremy has been running a lot and is ready to see all of you ride by while he rides the 100 on his running shoes!!
Heather