Heathers Blog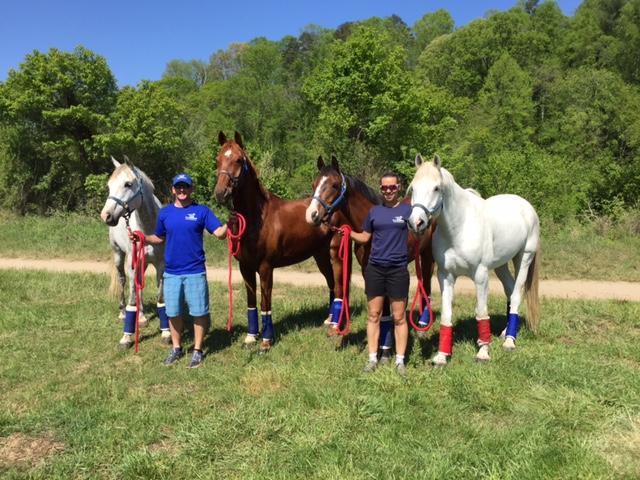 Picture above, left to right: Red Errow, Ibn Fiddlin, JG Bold King and Bound For Honor
This year the Biltmore was absolutely beautiful. We (Jeremy) booted all four of our horses with the Easyboot Glue ons (we always use them for races) earlier in the week, before we made our drive. This year we would be taking 2 horses each so we could ride both days. Jeremy would be riding Fiddlin on the first day on his first 2* 75 mile race and Honor on the second day for another 2* 75. I would ride Errow on his first 1* 55 miler and King on his first 3* 100 miler.
We pulled out of our driveway at 7 am on Wednesday and roughly 9:30 uneventful hours later we arrived at the stunning landscapes of the Biltmore Estate. Every time we pull into this venue it amazes me how beautiful the grounds are.
We unloaded and took care of the horses. All four had traveled well and it really helped that it was pretty cold out compared to Florida! The low was calling for 37 degrees and in Florida the low had been mid 60's. After all of the horses were cared for we drove into town and had dinner with Lynn Kenelly, Sarah Engsberg and Emmett Ross. We went to a great Greek restaurant. It was a fun evening.
The next day we set up our crew area that Melody Blittersdorf had saved for us. It was perfect, Thanks Mel!! Then we spent the day in the usual, day before race fashion scurrying about. Jeremy was doing hooves for people and we also pre rode all 4 horses and checked in, vetted in and weighed in. Our friends Lynn and Mark Ashby came in that day as well as Amy Hall. The day ended with the ride briefing and off to bed.
The 2* race at the Biltmore on Friday was the Pan American and Young Riders time trial for riders wanting to make the teams. There was a great turnout for this. Our new Chef, Mark Dial and new team veterinarian Ann Christopherson were there at full attention as well.
Day 1, Jeremy had a great ride on the unicorn, aka Fiddlin. They went around the course and came in 11th. I rode Errow on the 1* 55 for Jeremy as he was going to be riding Honor for me the next day. Errow went around the trail very well. We finished with a group of riders that were 3rd-7th. We finished 6th. Errow also won the FEI division and FEI Best Condtion. Both horses did great for their first times doing the FEI distances being asked of them.
That night Lynn Ashby made us another great dinner! She has so much energy. We skipped the rider briefing as we were taking care of Fiddlin while the meeting was happening.
The next morning, for day 2 we were up bright and early (or dark and early). Lynn Ashby had made us a full blown breakfast, eggs, hashbrowns, sausage and biscuits with gravy! Holy cow!
Amy Hall would also be riding today. It would be her and Lynn and Mark's mare, Thistle's first endurance ride. Amy had done the LD at the Foxcatcher a few weeks earlier on a different race horse but this was to be her first 50. Amy is a gallop rider for Lynn at the race track. Thistle ran on the flat track.
I was the first to leave as my start time was earliest. King warmed up calling for his friends the whole time. Poor guy. Once the race started he was much more focused. The first loop went by and King felt amazing. This was his first 100. I rode from the start to the finish with Kyle Gibbon. We had a great time riding together. Both of our horses were on their first 100 milers. I also spent a large part of the day riding with Becky Binnel (SP?). It was a great group as we went down the trail. The trail was really difficult this year. The footing on some of the single tracks was pretty rough. Roots, rocks and erosion hidden beneath leaves made for a lot of concentrated riding. The hills are constant as well. King handled it very well, especially considerig that he trained in the flat sands of Florida!
There were several times that we crossed paths with Jeremy and Honor. Jeremy rode Honor for me because Honor has had a long time off recovering from two injuries and Jeremy would be able to get off and run on foot through the down hills and rough terrain. Honor looked happy each time I saw them. I love that horse!! (And Jeremy)
This year there seemed to be a lot of hind end pulls and finsh line pulls. I was very happy to have our electrolyte mix that we use. I really think that the Magnesium and Redmond salt as well as the potassium we use helped us to avoid muscle problems.
Amy and Thistle did well, they came in 5th and looked great. Did I mention that Amy rode in an exercise saddle that you would gallop horses at the track with?? Talk about a workout. It is what she is comfortable riding in though, I suppose it would be like me galloping a horse on the track in my Reactor Panel, It's what my muscle memory is used to.
Honor and Jeremy finished looking great. Jeremy ran about 20 miles and Honor still came in second. Crazy horse.
Kyle and I headed out on our last loop, which was 14 miles. (Too long, I prefer 10-12 mile last loops but hey!). The two horses looked good. We lapped a few horses as this loop was also the prior loop for the 100 and the 75 milers last loop as well. Passing horses kept our horses happy. As we neared the finish Kyle asked how I wanted to do this... I asked him if he wanted to sprint off. He said he'd rather not. After a bit of contemplating he decided that he wasn't going to race so that I could come ahead. We did decide to tie for AERC, but it is not allowed to tie for FEI. The horses trotted across the line and then we made the long walk back to camp.
King looked great. I was super happy with his performance. He was a rockstar. An hour after finishing I showed him for BC and he was 110% sound and metabolically awesome.
On my way back to the trailer I let him graze. All that he had wanted for the past 20 miles was to park it and graze, he was starving. During our grazing, Becky Pearman saw us and did a fun video interview.
When we had finally grazed our way back to our trailer I poulticed and wrapped Honor and King and ate some food and crashed. Great ride weekend.
On Sunday morning we got up and went to the awards, King had won high vet score and Best Condition as well. I couldn't have been happier.
Our next couple of weeks are crazy. We will go to Deleware Park to watch Charich run in her first race on the track, then go to Costa Rica to help an endurance rider with some farrier work, then we hit the road. We are taking the same 4 Biltmore horses on a summer roadtrip. We will go to Ft Howes in Montana, then to Durango Colorado to visit with my sister and the Easyboot team and then down and over to California where we will stay with our friends Rachel and Brett Lain. We will do Tevis and then if we aren't too burnt out and if we have two sound horses left we will go up to Canada for the North American and Pan American Championships.
Hope we see you somewhere along the way!
Heather