Heathers Blog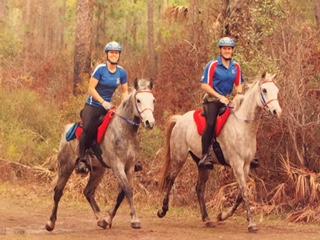 Pictured Above (photo credit: Becky Pearman) Sudden and myself with Errow and Jeremy.
This past weekend we did the "On The Edge" ride at Black Prong. On Thursday afternoon we loaded up Sudden, Errow and Jetta to go vet in for the following days 50. I would ride Sudden (of course, he's one of my favorite horses!), Jeremy would ride Errow and Cynthia Peticulous would ride her horse Jetta (that we have at our house, in training). We put the horses in our small 4 horse to have a trailer to haul home and back during the weekend. It was calling for rain both Friday and Saturday so we also took our LQ so that while it was raining we would have a place to hang out during our holds. Lucky for us the race is only a 20 min drive.
Just before we went over to the ride we realized that for the ump-teenth time our trailer wasn't charged. It had been plugged in but everything was dead... very depressing as we have recently had it in the shop several times for this very issue. We got the tractor and jumped the batteries so that we could operate the jack legs and put in the slide outs. We were taking this trailer come hell or high water!
After the circus of getting both trailers road worthy we headed over to the ride. Cynthia met us over there and Jetta went to her rig for the night. I went and got our paperwork and then we vetted in Sudden and Errow. This was Sudden's second time at this venue and he seemed like he knew what was going on this time, he was so much more relaxed. Errow was cool as usual. They both vetted great.

We had to use our smaller rig to jump the LQ batteries so that we could put out our slides on the LQ, oh what fun!
When we were done with setting things up I went over to have Wes do some body work on me. Some soft tissue, near my hip has been really bugging me for a while now. Jeremy set up the crew area while I got started on the table with Wes. What Wes does is really incredible. You can feel things changing as he is working on you, all the while he seems to be doing very little. At one point he was doing something on top of my stomach and under my back, beneath my stomach (I was laying down on my back so imagine over and under me) and I could feel my stomach twisting and contorting. Very odd.
After my session with Wes it was time for dinner, along with the ride meeting. It was a pasta feed. Lots of food, all very good. Then right into the meeting. I love it when things don't drag on, this was a nicely run meeting. All I had to remember was Yellow, Blue, Yellow... Or Yeah, Baby, Yeah. I always substitute the colors with words, it helps me remember and the more entertaining the better.
After the meeting we loaded up Sudden and Errow and went home. It was much more fun to be at home to take a long shower and watch a few shows and hit my pillow.

The next morning we were up at 5:30 and had our breakfast and coffee and then headed out into the wet grass, darkness to find our horses. Luckily they are both grey so it made it easier to see them. The "other" grey really wanted to go, Honor kept getting in our way. He is finally back to work after a year off and he thinks he is ready to go, gotta love him.

Sudden and Errow ate their mash and we saddled them up. When they were done we loaded up and headed to the ride. The two of them ate hay at the trailer while we waited for the right time to bridle them for warming up. Merlin came with us so I took him from the commuter truck to the LQ.

Sudden and Errow warmed up calmly, it was really nice to see that Sudden had improved so much from his last event. When it was time to go we mossied out and followed the controlled start. Within a few moments there was a big fuss up at the front of the ride. We were all riding through a huge grassy area and I looked out there and saw a grey mustang bucking and leaping across the green. He took many HUGE leaping bucks and finished with a full rear! The woman riding him stuck with him, and when he was done she didn't even ask to get off. Pretty great riding.

The first loop was fun and our two horses behaved themselves. The lunch was really the best part if you ask Sudden. Errow and Sudden both enjoyed their food for the 50 min hold and then we were out on the Baby...er Blue loop. 20 miles. The yellow loop was supposed to be 15 miles and it was closer to 17 so we were hoping for a short loop. Nope, it was 20. That meant that this ride would be somewhere between 53-54 GPS miles. Bummer. The blue loop was fun. We went into the Hogs Pond loop but there was a really fun single track that we had never done before. Near the beginning of this loop Jeremy realized that Errow didn't like the saddle he was riding him in. It was a newer saddle from Argentina. I offered to trade saddles with him, giving him my Reactor Panel. Errow soon felt great again and the loop went fine.

After this there was an additional lunch, Sudden and Errow were surprised and delighted. 50 Mins later and we were on our last loop. I was back in my Reactor Panel and Errow was now on a third saddle, the RP would have been the first choice but hey, it's my saddle:)

The final loop was going great. Sudden and Errow were trotting along and taking breaks at the troughs. The sky was getting heavier and darker by the minute. I was hoping we would get lucky but about 5 miles from the finish (1 mile if the milage had been accurate!) it started dumping on us. Just about then, we started trotting and within a mile it was clear that Sudden was off. Oh NO!!! My poor little ninja was limping. :(

We made it in to camp and tried several things. It was the front left. After nothing worked we tried pulling off his Easy shoe, now he was worse! Oh boy. Hard to say if he was worse barefoot or worse from standing still. After 30 mins of messing with Sudden (who just wanted his hay) I went up to the vet and told him I was out. He checked Sudden metabolically and that was that. What a bummer for Sudden. It was later found that Sudden had an extremely sore back. The day after the ride he had a very hard knot on his left lower back, right where the back of the saddle would sit. I think that trading saddles for a 20 mile loop may have been my issue. Total bummer but the good news is that Sudden is fine now. Errow finished without an issue.

Since it was still raining pretty darn hard and we saw the trail had a lot of rocks on it we were in a hurry to get home to put hind EasyShoes on the two mares that would do the LD the next day before it got dark. They only had Easy-shoes on up front and would need the hind ones for the trail that we had just seen. After the horses ate a little bit we loaded up our two, plus Jetta (who had finished the 50).

At our house the herd greeted the horses back from the race. The three seemed happy to be back home in their own pasture to hang out in the rain, rather than being tied to the trailer at the race.

We caught the two mares for the Saturday ride to put their Easy Shoes on their hind feet. Deen and Treasure were the two. While we were doing them in our feed barn there was a tremendous down pour occuring on our tin roofed barn. If that wasn't enough to deafen you then the huge thunder claps were! Both mares stood very well considering!

It was good to get back in the house and chill the heck out. We ate and showered and vegged out for a couple of hours before bed.

Since we were doing the LD we got to get up a half an hour later. 6 am and we were up and at 'em. Breakfast and coffee. We had put the mares in our front yard paddock as Deen can be tricky to catch. The entire night it poured so hard it was unreal. There was also a lot of thunder and lightening.

We fed the girls and loaded them up. When we arrived at the race we saddled them up and they ate hay at the trailer. (This is when I saw that Treasure had a notable swelling with a cut on her left forearm. That was weird, she didn't have it the night before when we were working on her.) I put Merlin in the LQ and it was time to get on. These two mares are super awesome. They are tremendous atheletes. Deen is a bit hotter, while Treasure has a really pleasant temperament while still being forward.

We started right with the group for practice with group starts, both girls were very well behaved and trotted along perfectly nice. It was so great to see that they were adjusting so well to this sport from both running on the track this past summer. Neither mare was the least bit neurotic or jiggy, no wasted energy.

The first loop was the yellow from the day before. The trail was entirely different than the day before however as it was mostly under water. SOOOO much water. Our mares won't have any trouble crossing water. The vet check was nice as the weather was almost starting to warm up, but I wasn't complaining, it was not raining!

Our second loop was orange, also a water festival. The two mares finished and looked fresh. It was a really fun ride with them.

After we packed up we pulled our commuter truck and trailer up to jump the batteries on the LQ once more to put the slides in and then we were homeward bound. Monday morning that LQ is going back in to the shop!!

When we got back to our house we put the mares out and went in to the house to relax. After a couple of hours I went out to check on Sudden to see how he was doing (I didn't fully know it was just his back at this point as I had not seen the big knot until after I checked on him). I am so glad I went to go see him. It turns out that the front yard, paddock fence where the mares had spent the night had the big railroad tie, fence post (that is the anchor to the corner of the fence) fall down during the storm. The big cut with the swelling on Treasure's leg now made sense. Horses! We were so lucky that the mares didn't get really badly hung up.

Today we booted the 4 we will be riding next weekend in SC at Broxton Bridge. Hope to see you there.
Heather