Heathers Blog
Wednesday, January 14 2015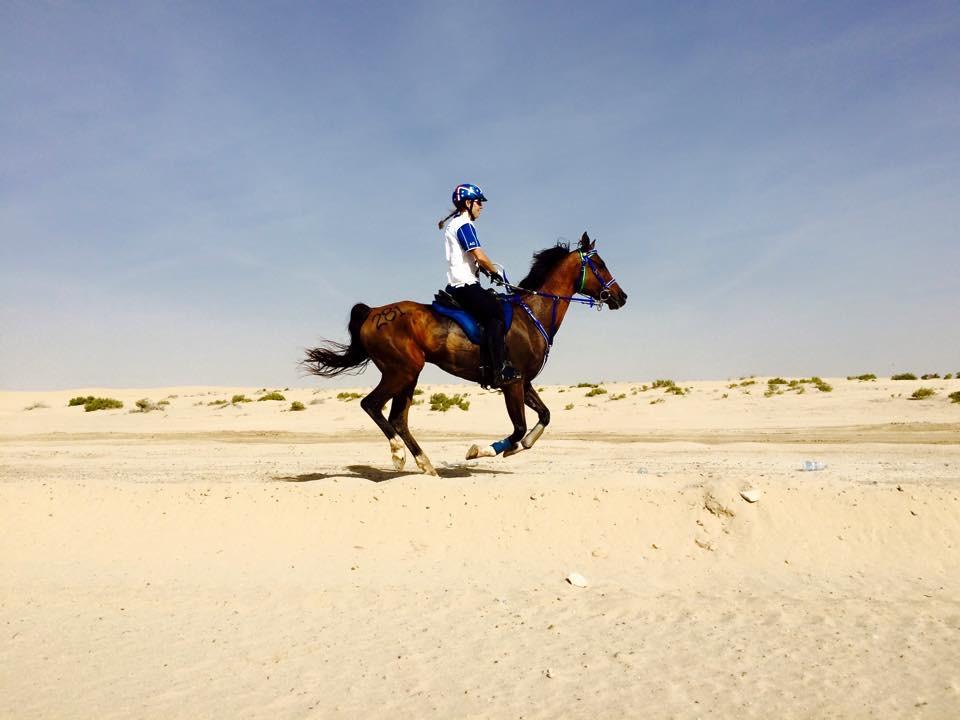 Pictured above: Riverwatch on his 3rd loop
We went to the race venue on Friday afternoon. We walked around briefly and then had lunch there. The venue was beautiful. The permanent vet check makes it very nice and established.
The hold area is landscaped. You arrive off of the trail on a track with gaurdrails. You go through something that looks like a ticket window counter. There is a walkway/bridge to get from the one side of the venue to the other, above the ticket counter window/walk throughs (kind of like you are entering a castle). There are about 6 or so arrival walk throughs. There is also a tower on both sides of the bridge for the announcer to view the race from.
The horse wears a GPS tracking system which is on a headstall that is put on by the vet staff when you vet in. It stays on for the whole event. This system is the system that registers your arrival time. When the horse passes through the arrival gate (ticket window) it registers to a computer system. Then you proceed across the cooling area. This is a wide area with many, many garbage cans full of water to cool the horses from. In this section, whoever designed it had great foresight. The whole ground is covered with rubber mats and there is a drainage system to recycle the water. If you have ever done mass crewing with a lot of water, you would appreciate the fact that you won't be in a swamp of crazy mud by the middle of the race. From the cooling area you proceed through another electronic time gate for your pulse. Once the horses crosses over that line your recovery time is recorded. Then the vet takes your heart rate with a hand held heart rate monitor and the pulse displays on a big digital read out so anyone watching can see the pulse. This area is very nice, green grass. Then you proceed to the trot out lanes, again being very nice green grass. You stand for vetting as usual and then, when ready, you trot down and back on the manicured grass lane for the vet.
Because of all of the electronic read outs and timing you can go to a booth to get a print out of the race at any time and it will give you the stats on everyone in the race as far as placing, arrival time, pace, recovery time etc. Pretty cool. You can see where you are and how long your horse has been taking to recover at each check (as well as any one else in the race).
After we ate lunch it was time for vetting to start. We watched all of the horses from North America vet in and then all of the European horses. The USA riders were Melody Blittersdorf and Willemina Deboer and myself. Jeremy and Ellen Olson had a horse there for the Guatemalans and Lori Schifflet had a horse there also for the Guatemalans. All of the horses vetted in.
There were about 26 invited riders. 172 riders total would start.
After the foreign horses vetted in then the UAE horses vetted. It was great to see Riverwatch again. He looked great. He vetted in perfectly. Then we had to go weigh in. There were 3 scales going and all 3 had live video, viewing the scale read outs to enforce correct weighing. I found it to be very cool that the race had orange weight pads for any riders not meeting the weight requirement. You would be weighed and then if you didn't hit the 75 kg then you would be given an orange pad with the added weight that you were short. The pads had a GPS in them as well, if the pad didn't go the whole trail you would be pulled.
There was then a riders briefing that basically went over how their vet check flowed and some basic rules. We also found out that there would be prize money for all finishers and cars for the top ten and first 7 foreign riders! When we left the meeting the USA Embassy representative had her picture taken with Jeremy and I.
After meeting with Anzac on what he wanted us to do and what time to meet him in the morning, we left the venue. By this time it was around 6 pm. We drove over to a restaurant that there was a dinner party at that night. We had packed our nicer clothes and got changed in the bathroom. It was pretty funny as a lot of riders went in looking like trail trash and came out all dressed up. I'm sure the restaurant owner was relieved.
After we changed we went to put our clothes out in the car and on our way back there was a guy with a falcon so Holly and I stopped to hold it and get our pictures with it.
Once inside of the restaurant all I kept hearing in my head was the song from Alladin, "Prince Allee, Fabulous he Allee Umbabwaa..." The open sky seating with all of the lights and rugs was beautiful. It was designed like an outdoor street bizarre. Very awesome. We sat with a lot of the USA rider group and had a great time. After dinner, Melody and her group went out and rode a camel. We decided to make the hour trek back to the hotel before the dinner show. The race was in the morning and I didn't feel like staying up that late.
I fell asleep easily and before I knew it we were getting up. We got to the venue witout any issue. Riverwatch was walking around with his groom. He looked relaxed. When it was time, he was saddled up and I got on to check my stirrups and then got off again as we had a lot of time. All the while he was walked and I had a yummy tea, similar to a chai. Anzac also told us that the Chalet (right behind our crew bay there was a one bedroom chalet fully stocked with drinks, food and a hostess) was open for us to enjoy as well. The chalet also had a deck with lounge chairs on it facing our crew bay as well as a flat screen TV that had all of the electronic data being updated live for the race (this is where I could see things like my out time). Very cool.
It was finally time to get on and ride Riverwatch around. I would be riding with a girl named Annette who was riding Run (he came in 9th at the WEG with a different rider) and Sheikh Abdulla. I went around a couple of times and then filed out to the start area. I lost Abdulla and Annette for a while and was looking for them in the crowd of 172 horses. Moments before the start I found them and we all rode off.
The race was 5 loops. The first one being 25 miles! The footing was very sandy, from hoof deep to fetlock deep for the majority of the loop (about 60-70 miles were like this footing, so incredibly difficult). A short ways into the loop our crew started handing off water bottles. Riverwatch was scared of them (We had the same thing with him. I was actually practicing bottle hand offs 2 days before the World Championship in England and got dumped off of him!). He was scared of the bottles for a while, I started asking for the crew to toss them to me so I could get water on him. I was getting pretty wet but so was Riverwatch so it was ok. After a ways Riverwatch's groom started handing off the bottles. Then Riverwatch was immediately happy and not worried. It was very clear that he trusted his groom above all.
The three horses finished the loop looking great and all vetted in fine. (Unfortunately I found out that Melody and the Olson's horse and Lori Schifflet's horses all vetted out after loop 1) The hold flew by and we were off again, this time I went a little slower as planned and Annette and I rode together while Abdulla went on ahead. The horses worked well and we got plenty of water bottle hand offs. This was another long loop, 22 miles.
Run vetted out at this check. He was just not moving right. Darn it. Riverwatch looked great. I got to relax again as the grooms all did their thing. Riverwatch was eating and so was I:)
On loop 3 I rode the majority of the loop with various riders switching around. It was best to try to be in a group as the different crews would then rotate handing off bottles so that everyone got more. (It was here that I found out that Willemina had been pulled for metabolic).
Loop 4 I rode with 3 riders most of the way around and I got a tremendous amount of water bottles, this was also a very warm loop. After this loop there was an exit exam. Riverwatch looked perfect.
My final loop I rode alone. We did catch 1 horse halfway around the loop. Riverwatch was really proud of himself for this. As we were approaching the finish track a horse came up on us and Riverwatch decided that maybe he should try to speed up. I let him speed up a hair but as the other horse was really going for it I told Riverwatch that it was not a good idea and he agreed, the track is very long. We crossed the finish line in a time of 8:17 in 24th place, first foreign rider and first female (not that that was a big deal, we just happened to notice it in the results later and thought it was cool.) I believe that there were 8 foreign finishers of the 26 that started. There were 172 starters total and 72 finishers.
Riverwatch vetted through perfectly. He has done around 9 FEI races, (4 100/160s and multiple 75/120s) since being in the UAE and he hasn't been pulled. Pretty awesome.
After all was taken care of we left for our hotel for dinner and bed. It was hard to stay awake driving back. Dinner was wolfed down and shower and bed shortly followed...like the dead.
The next morning my arms were sore in weird places from grabbing and pouring bottles. VERY sore:) We went to the Dubai vet hospital for Holly to make an Easyboot presentation and then went and met up with Juma and Maria for a visit. That was fun. Then we went over to Riverwatch's barn to have a look around and visit with Anzac. The horses that Abdulla has there that Anzac is caring for are beautiful. Anzac really loves them and that is very clear. Riverwatch looked great, he didn't lose any weight and he was moving great and looked bright and happy.
After a nice long visit we went to lunch with Anzac and had fun conversations at a beautiful place over looking a golf course. There was a cat there that helped me eat my burger;) I slipped him the part I couldn't finish. It was late in the afternoon when we said our good byes. What a great time.
We went back to the hotel and on our way we went to the falcon market. In this complex there were many stores with falcons for sale. There would be 20 or so in each "pet store" standing on perches. They were stunning. There was also a tack store in this complex so naturally we went shopping. Also there was a big area (I didn't go in so I can't describe it) to take your falcon flying. There was a group of men waiting to go fly their birds. Pretty fun. Seemed like a social hangout, much like a shooting range or bowling alley.
When we got back to the hotel we relaxed for a bit. We were on the 1 am flight later that night/next day. Then we went down for dinner and then got a ride to the airport. At 1 am the flight sat for another :45 mins waiting for some passengers. Finally we took off. 14.5 hours later we landed. It then took :35 mins for our bags to show up in customs. By the time we got to our gate we had missed our flight by :10. It was now 8:15 am. The next flight, just after noon was totally full but we were put on standby.
We decided to have a Starbucks, because we could! We got on the noon flight, sat on the parked plane for over an hour and finally taxied and then sat on the runway for another stint before the PA announced that we had weather delays in Orlando and we would be going back to our gate. I looked at Orlando weather, light rain with 4mph wind...
Now we all deplaned. After a couple of hours I asked what the real reason was and was told it was a mechanical issue. 4 hours later they had us back on the flight! United is really great, said no one... 39 hours after we took off we were at our house. By the time my head hit the pillow it had been over 48 hours since I was last horizontal. Good to be home.