Heathers Blog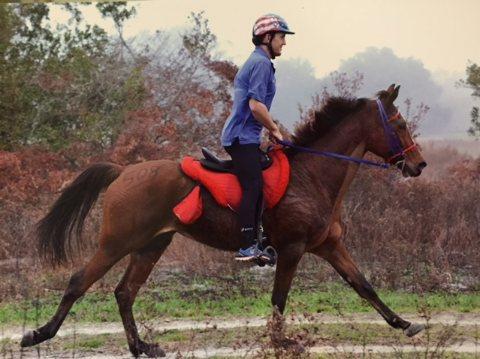 Pictured above: Rictik and Jeremy Reynolds
This past weekend we did the Greenway Gallivant 2 day ride. It was really fun. The camp had changed locations from years past and with that there were entirely new trails. The best part was that we had an FEI ride in OUR town!!!
Nicki and Andy came up, so it was fun to see them as well:) When they arrived we loaded up our four horses and drove over to the ride site, a whopping 25 mins. Part way over to the ride we got a text from a young rider who needed her horse's feet done. Jeremy got out of the truck and he and Andy doubled back to get the size Easy shoe that was needed for her horse while Nicki and I continued on.
We got the four horses all settled. King and Rictik would do day 1 so they stood on one side of the trailer, while Sam and Fiddlin were doing day 2 and they were on the other side. After getting all of them hay and water I went and got the paperwork taken care of and then Jeremy was there and we vetted in King and Rictik.
Nicki was going to ride Ellen Olson's horse, Scarlett on the 2* for day 1. I would ride King on the 2* and Rictik and Jeremy Reynolds would do the 1*.
After vetting in and weighing in Andy, Jeremy and I went to grab a bite to eat while Nicki finished getting her things organized with the Olson team. We had a nice time with live music at the Blue Gator, always a good time. (Andy brought her back dinner.) We got back to camp to go to the ride meeting. The meeting was really lengthy... Oh well. I just wanted to go to bed but then someone mentioned the Rider ranking list... Crap. I hadn't renewed ours and we wanted the rides to count for our USA rankings. I tried to renew on my phone but it wasn't working so after the meeting I had the pleasure of driving back to our house to use my lap top to try renewing. I caught a ride back with Nicki and Andy and then I would drive our car back over to the race.
After trying several times I emailed our endurance rep at the USEF saying that I give up and that I need to be on the rider ranking list but that the website wasn't letting me. I decided to shower since I was at home and wanted some benefit! While I was in the shower I got an answer from Kristin at USEF on how to access the rider ranking list. Not intuitive at all. Like the thing that actually says "rider ranking" is not how you get to it... Whatever, I got it done and went back to camp to go to bed.
The next day I got up at 4am to feed the horses then went back to bed. For some reason the dogs were being extra "special" and kept wanting to go outside. I was not getting the sleep I wanted. When the alarm went off to get up I felt like I had been awake for a while. Frapicinno time!!
At 7:30 the 2* started and King and I went trotting down the road. Right as I thought that it was super that he was trotting, he realized he had been trotting too long and there he went into his canter. Oh well:)
The loops were 10 miles with a 15 min stop (no vetting, just relax and then 15 mins later continue) then a 15 mile loop with a 50 min hold, same 15 mile loop with a 50 min hold, same 15 mile loop with a 60 min hold, 10 mile loop (that we had done on the first loop) with a 30 min hold and then the same 10 miles to the finish. It wasn't as boring as that sounds. The 15 mile loop was really fun, it was a very twisty single track with lots of lateral work, with a few obstacles and mostly sandy footing (which got deeper and deeper), by the 3rd time through it was really eating at the horses.
Nicki and I rode together for the first 2 loops and then on loop 3 we were just minutes apart but then her mount was a little off and that was the end of her day. By the 4th loop I caught up to Meg Sleeper. From that point on we rode together. It was fun, the trail was very pretty. The sunset was especially beautiful, the pink hues were ever changing until you could see a bright pink/red stripe on the horizon, all the while the frogs and crickets were singing along. Exquisite.
At the end of the day King crossed the finish line in front. He was really great all day and was recovering amazingly. For the most part I was my own crew, (although Andy had brough ice and at one check he was there and at another check Jeremy was there, I appreciate both of them helping me). It was pretty hot and humid as well. I really think King is going to be a good one. He trotted for BC looking snappy, even though he was scared of the flood lights in the vetting area and wouldn't really do a proper circle because of it!
Rictik did great as well, she finished her 1* and came in 11th, looking fabulous.
After we took care of both of the horses we went to dinner with Nicki and Andy at Don Pepes, our local Mexican restaurant. It was really fun, then back to the ride for bed. This night Merlin wasn't feeling too well, he was moaning as he fell asleep. His belly was bloated too, poor guy ate something that he shouldn't have. Another poor night of sleep and then it was time to get up. It was notably warmer.
We started our 1* at 8 am on Fiddlin and Sam. The 10 mile loop was uneventful followed by our 15 min stop. The 15 mile loop was much deeper than the day before and it was warmer and much more humid. Poor Fiddlin (the unicorn) was very hot and having trouble recovering, we did all we could but he did not make the 20 min FEI recovery time. Totally odd, he has never had an issue with recovering. We later thought it may have been due to a low grade sinus infection from his recent accident. He was pulled from the FEI ride but was able to continue with the AERC ride.
At the lunch hold Merlin had thrown up an impressive amount of "things" for a dog of his size! He seemed to feel much better though, so who cares?
The day continued on and Sam and Fiddlin both finished the AERC ride and Sam got his 1* as well. Overall, a super sticky day in the deep sand.
When I was gathering our awards I found out that King had won Best Condition and High Vet score on his 2* 75/120! Super cool :)
We cleaned up and after a few hours we headed home. The horses were really happy to be out in their pasture. We were really happy to be showered and relaxing in our air conditioned house! We slept 11 hours that night:) Back to human.
On Sunday, after we slept in, I made pancakes and then we went into work mode, there was a lot to get done before we would be leaving on Jan 6th for Dubai. Jeremy did 10 of our horses feet, from trimming to pulling boots from the ride. We also cleaned out our trailer completely and then we went to dinner at Panera for a quick bite before seeing a movie with Nicki and Andy with their family who was visiting. We saw "Unbroken". Heart breaking what that man went through...
Today is Monday and we ran a bunch more errands, we leave for Dubai tomorrow!!! Yay! My sister Holly, Jeremy and I all fly tomorrow and meet at the Meydan Hotel tomorrow night. I can't wait, I'm so excited to visit with our friends from the UAE. I will try to keep up a blog while we are over there. The race is on Jan 10th and we return home on the 12th of Jan.